Welcome
to China ShipOwners' Association website !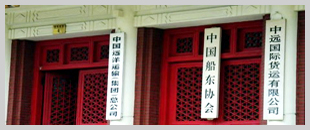 China Shipowners' Association (abbreviated as CSA) is a trade organization composed of owners, operators and managers of merchant ships...    more about us
THE ASF JOINS WORLD TO END PIRACY
SOURCE Author 2017-04-20 00:10:35
The Asian Shipowners' Forum (ASF) joins forces with a coalition of organisations, ranging from trade unions to shipowners' associations and insurers, to back a global e-petition, www.endpiracypetition.org, demanding concrete actions to end maritime piracy that isplacing seafarers' lives at risk and threatening the international shipping and the world trade.
Mr Johnson W. Sutjipto, the Chairman of the ASF said, "The ASF supports this coalition. This is an important step that we, as Asian shipowners, have to take inorder to protect our seafarers. We have also informed the organisers of this move to include the ASF in the futurein such meaningful campaigns."
Mr S S Teo, the Chairman of the ASF Ship Navigation and Environment Committee, added, "The situation has become uncontrollable and we have to put a quick stop to these criminal activities. The ASF member shipowners' associations have all urged their staff and families, their member shipping lines including their national and overseas affiliated companies, etc etc to participate in this e-petition."
Mr Li Shanmin, the Chairman of the ASF Seafarers Committee, said, "We hope that with this joint effort, the Governments of all nations will heed this urgent request, and we can be sure that the livelihood of the seafarers and their families can be safeguarded."
The Secretary General of ASF, Mr Yuichi Sonoda, also echoed the same sentiments. He added, "As 90% of the world trade is carried by sea, all shippers and cargo owners are also encouraged to join in the e-petition as the cost of piracy could ultimately be passed on to the consumers. Therefore it is paramount for each and every one of us to be actively involved. This e-petition is intended to deliver at least half a million signatures to governments by IMO World Maritime Day on 23 September 2010."
For further information, please contact Mr Yuichi Sonoda, SecretaryGeneral of the Asian Shipowners' Forum, at the contact address shown in the header. Please also visit ASF's website www.asianshipowners.org.
* * * * *
Notes
The Asian Shipowners' Forum (ASF) is a voluntary organisation of shipowner associations and its aim is to promote the interests of the Asian shipping industry. It is estimated that the ASF represents about 50% of the world's cargo carrying fleet.
The ASF consists of the following 8 members:
Australian Shipowners Association (ASA)
China Shipowners' Association (CSA)
Federation of ASEAN Shipowners' Associations* (FASA)
Hong Kong Shipowners Association (HKSOA)
Indian National Shipowners' Association (INSA)
Japanese Shipowners' Association (JSA)
Korea Shipowners' Association (KSA)
National Association of Chinese Shipowners (NACS)
*FASA is composed of:
Filipino Shipowners' Association (FASA-FSA)
Indonesian National Shipowners' Association (FASA-INSA)
Malaysian Shipowners' Association (FASA-MASA)
Myanmar Five Star Line (FASA-MFSL)
Singapore Shipping Association (FASA-SSA)
Thai Shipowners' Association (FASA-TSA)
Vietnam Shipowners' Association (FASA-VSA)
Between the ASF AGMs, the ongoing work is carried out by the five Standing Committees;
Seafarers Committee (SC)
Shipping Economics Review Committee (SERC)
Ship Insurance and Liability Committee (SILC)
Safe Navigation and Environment Committee (SNEC)
Ship Recycling Committee (SRC)