Welcome
to China ShipOwners' Association website !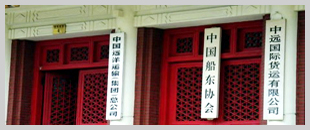 China Shipowners' Association (abbreviated as CSA) is a trade organization composed of owners, operators and managers of merchant ships...    more about us
SINOTRANS &CSC Chairman Zhao Huxiang Meets with Shanghai Mayor Yang Xiong
SOURCE Author 2017-04-20 00:08:02
On November 3, on the occasion of attending the launching ceremony of SINOMARINE and signing ceremony for key cooperative projects in Shanghai, Mr. Zhao Huxiang, chairman of SINOTRANS &CSC, met with Yang Xiong, mayor of Shanghai. Both sides reviewed the cooperation over the previous years.
Firstly, Mr. Zhao briefed the business development of SINOTRANS & CSC over the recent years, as well as the current situation of its subsidiaries in Shanghai and future investment plan. He also thanked Shanghai Municipal Government for providing support to the operation of SINOTRANS & CSC in Shanghai.
Next, Shanghai mayor Mr. Yang Xiong expressed his thanks to SINOTRANS & CSC for its contributions to the social and economic development of Shanghai, in particular the establishment of shipping operation center in Shanghai. During the meeting, he urged relevant authorities under the municipal government, Pudong New Area and Shanghai Free Trade Zone to provide policy support and related services to the Group.
Furthermore, both sides exchanged views on other issues, including the use of state-allocated land, cruise liner business, and e-commerce.
Present at the meeting were also other leaders and officers from both sides. They included: Shen Xiaoming, Shanghai municipal party committee member and party secretary of Pudong New Area; Li Yiping, secretary general of Shanghai municipal government and director of the General Office; Sun Jiwei, deputy secretary general of Shanghai municipal government and district mayor of Pudong New Area; Sun Jianping, director general of Shanghai Municipal Transportation Commission; Song Dexing, vice chairman of SINOTRANS & CSC; Zhang Jianwei, director of SINOTRANS & CSC; Li Zhen, president assistant; as well as other responsible officers from the Administrative Office, SINOTRANS Eastern, Shanghai Changjiang Shipping Corp., and Sinoair.
(Source:http://www.sinotrans-csc.com)